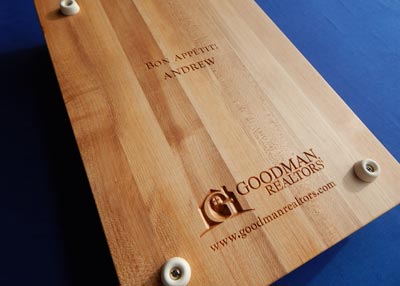 Every closing is a great marketing opportunity. While the closing is the obvious last step in the sale you are currently working on, it is also the first step in the next sale from a client – whether a direct sale or a referral. The very best way to take advantage of this opportunity is to give the right closing gift.
East Bay Cutting Boards are the right gift. The boards are personalized on the front for your client and on the back for you. Client personalization normally includes their family name or first name(s). The board back is reserved for your branding which typically includes a brief sentiment, your name, logo and some contact information. You are the author and within the constraints of brevity and good taste we will carve what you choose. Please see the adjacent samples.
Our boards are substantial and long-lived. As an investment of your marketing dollars they deliver an extraordinary return. For the price of a cutting board your clients will have a constant reminder of your friendship and professionalism in their kitchen, the "Heart of the Home".